Every year, for one week during the summer the Latin rock band Making Movies partners with the Mattie Rhodes Center to provide Kansas City youth with a learning musical experience like no other. We sat down with two members of Making Movies last week after their students put on an hour rock show with just one week of practice to hear all about the process behind the scenes of a truly magical idea.
KC LOVES:
Can you guys each give us your name and tell us the band you're in or what you do or what part you play in the whole organization.
Enrique Chi:
My name is Enrique Chi. I'm the singer and songwriter for Making Movies. For six years, we have run as a band and we started and founded our music camp, now it's called the Mattie Rhodes Rocks Music Camp.
Diego Chi:
My name's Diego. I play bass in the band Making Movies. I've been running the camp and organizing it ever since we incepted it. We always put our brains together but at the end of the day, I ended up becoming the camp director.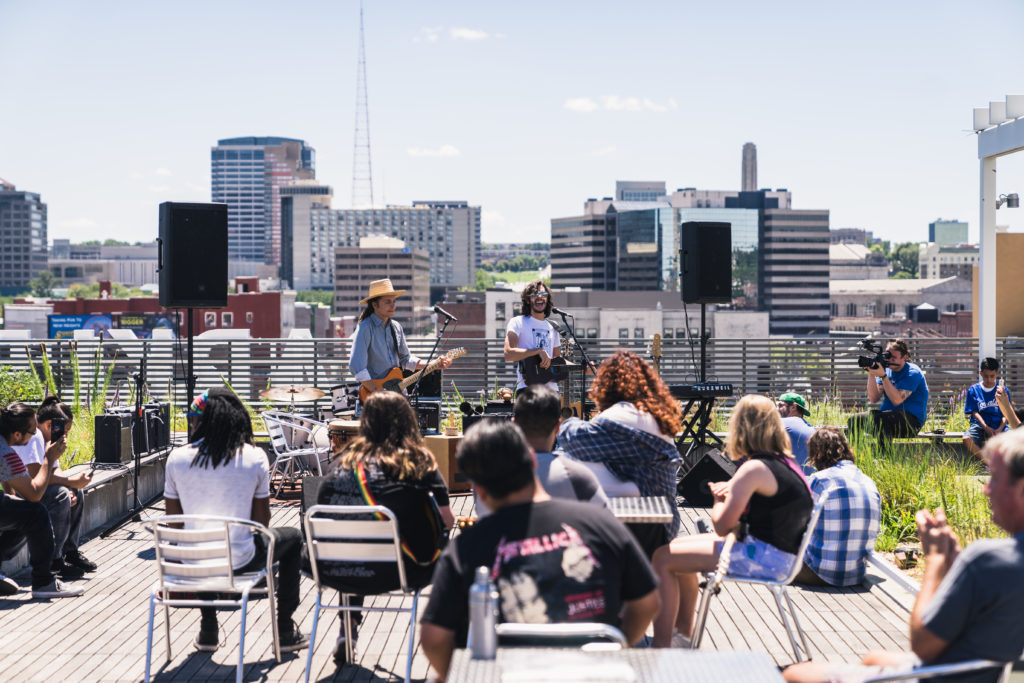 KC LOVES:
What is the Mattie Rhodes Rocks Camp all about?
Enrique Chi:
It started really with an idea that I was having with Juan Carlos who also plays in Making Movies… After a couple of months of complaining about the void for Latino kids in the inner city, for music programming, we decided that if we're just complaining then we're the assholes then we should just do something. So we figured we could give a week of our time, we can manage that. We partnered with the Mattie Rhodes Center to use their space because they have a wonderful facility right in the heart of a tough part of town, kind of Saint John on top being a pretty tough neighborhood in some capacities. There's a lot of family issues and property issues in that neighborhood. They have a wonderful facility there. We asked them if we could run a music camp.
Six years later, we really learned what we were doing by doing it. I think that really the goal of the camp is to get people to make music, get these young people to just create. I think that there's a lot of music education that focuses on the mechanics of music. Kids are left not really knowing how to make music, which might be making songs but it's also just communal spirit of we're doing something together, we're going to make music for the fun of it. It's going to be great.
KC LOVES:
You guys are pretty well-known all around the nation at this point. What drove you guys to make that happen here in Kansas City as opposed to anywhere else?
Enrique Chi:
We saw the need. There was actually a bigger Latino community than most people realize. Kansas City has a flaw, a cultural flaw in its city where it has banded its inner city. It's not unique to Kansas City but it's kind of an unfortunate thing. There's a lot of inner city communities that are devoid of even the most simplest things like getting a guitar lesson, which seems kind of basic resource that most kids have exposure to. There's neighborhoods in this city that don't have that. It's not normal. So we decided that we want to do something to expose kids. At first, it was that simple to the idea that they could play music. So we figured we might as well do it in our backyard.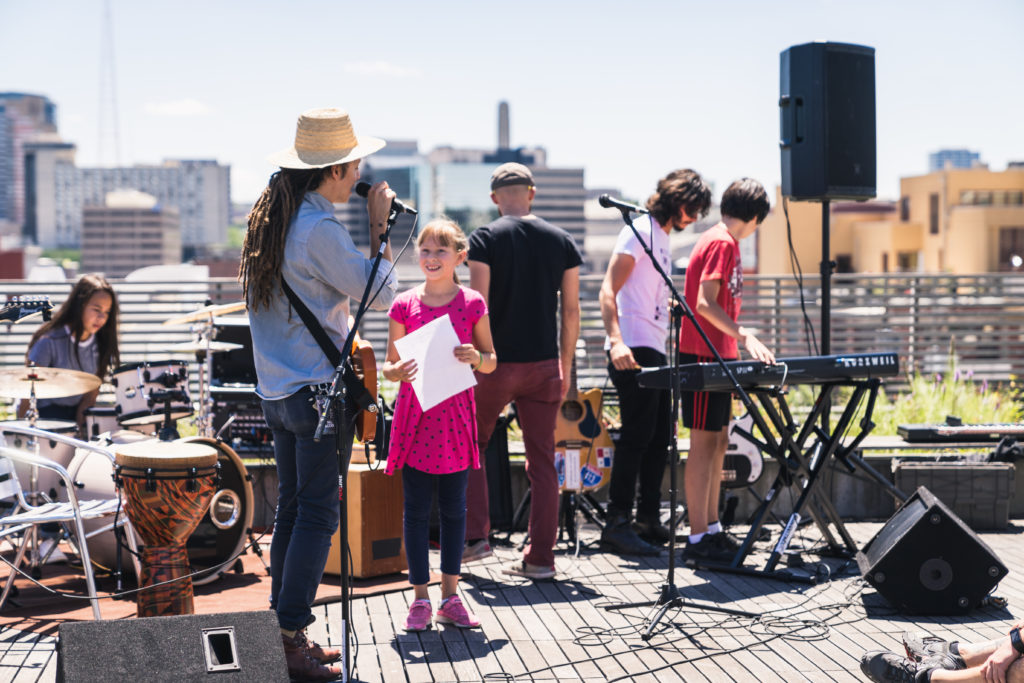 KC LOVES:
What kind of personal experiences do you bring to this camp?
Diego Chi:
These young people, they may not know how much we do outside of the camp. For the most part, they just interact with us when they show up. But every experience we have in our band ends up coming back to what we're doing whether it'd be the techniques that we learn while working with a songwriter from a band called Ozomatli. They're a Grammy-winning group. Enrique has gotten to work with them so songwriting techniques that we learned when we were hanging out with them in that little studio in LA. Learning from them, those are the techniques we get to bring back to these young people when we say, "Hey now, when you approach a song, try it this way." These are lessons that we've learned in our travels. Same with things about how instruments work and just be the spirit of why you might make music.
We've had a lot of mentorship from people like Los Lobos, Steve Berlin from Los Lobos. He has mentored us and he really helped hone in, in how music is this force that you can just … you tap into it. It's a spirit almost. He really helped us push ourselves into being open to giving … You have to give up yourself with music and he really honed in on that for us. We get to bring those lessons back to these young people who … Again, there is no other option for them in their neighborhood for music education. For us, it brings us really great joy to be able to bring not just a straight up lesson, but to be able to bring some of these deeper lessons that we, as musicians, have been challenged with and have grown. We're able to bring that back here to our own backyard in Kansas City.
Enrique Chi:
Bukowski has this poem. It's kind of dark. It actually goes, if I see God has made a ton of poets yet not much poetry. I see that a lot. I see a lot of people who are educated on how to play an instrument and there's a lot of musicians in the world but not a lot of music in a lot of ways. What I mean by that is that there's not a lot of this really putting yourself on the line when expressing some part of your story that I guess what would be called folk music, the real definition where you're just making music for your community, for your family, because that's what you do. Because you're a human being, you have a story to share and you need to use that as your vehicle. That was the whole goal of this week, was for these kids to realize it doesn't matter. I mean you could have a terrible and know three chords, and you can impact people the way Bob Dylan impacted people. It's all about how much you're willing to put yourself on the line.
KC LOVES:
Being only a week long camp, there's only so much you can teach these kids. What's the one thing you always want to leave with after the camp?
Enrique Chi:
It was funny. One of my students who came to camp. His mom sat in for a day. She's an educator. She's a full-time teacher. We're not full-time teachers. We're musicians first and we do this stuff as a part of our lives. She's like, "I'm just amazed at how much you you are able to pull out of them, you just don't let them not try things." I think that, that would be the one thing I want them to take home. If you are interested in something, you just try it. If you fail, you fail and you move forward because that's the only way to find what it is that you're good at or what you want to do. Every kid is forced to … Not forced.
Every kid has like, "Look, you have an option. You don't play piano, you're playing piano on the side. Figure it out. We're going to figure out a couple of notes, we're going to keep the rhythm. You've never played guitar? You've never sang? Try right now. Do you ever wanted to sing?" "Yeah, I wanted to sing." "Well then, you try it right now. Not tomorrow, you try it right now." That, for me, is just like, "Jump in, you'll figure it out." Yeah, that's maybe the one takeaway.
Diego Chi:
Yeah, honestly, we are always amazed by whenever you challenge young people to do something, I mean we're talking in four days, they were able to create entire songs and then perform them in front of an audience. Tomorrow, they get to record them too. What we found is that whenever we set the challenge, we set the bar, like, "This is what you're accomplishing," and we challenge these young people to do something that they've never done before like that. They almost always, without a doubt, rise to the occasion and then supersede your expectation. Not only that, it's like a really amazing experience. It just shows that when you do try and you put yourself out there, you never know what the outcome's going to be and it almost always will be greater than the alternative, which was not trying at all. It's honestly just an honor and inspiring to watch them put themselves in that position.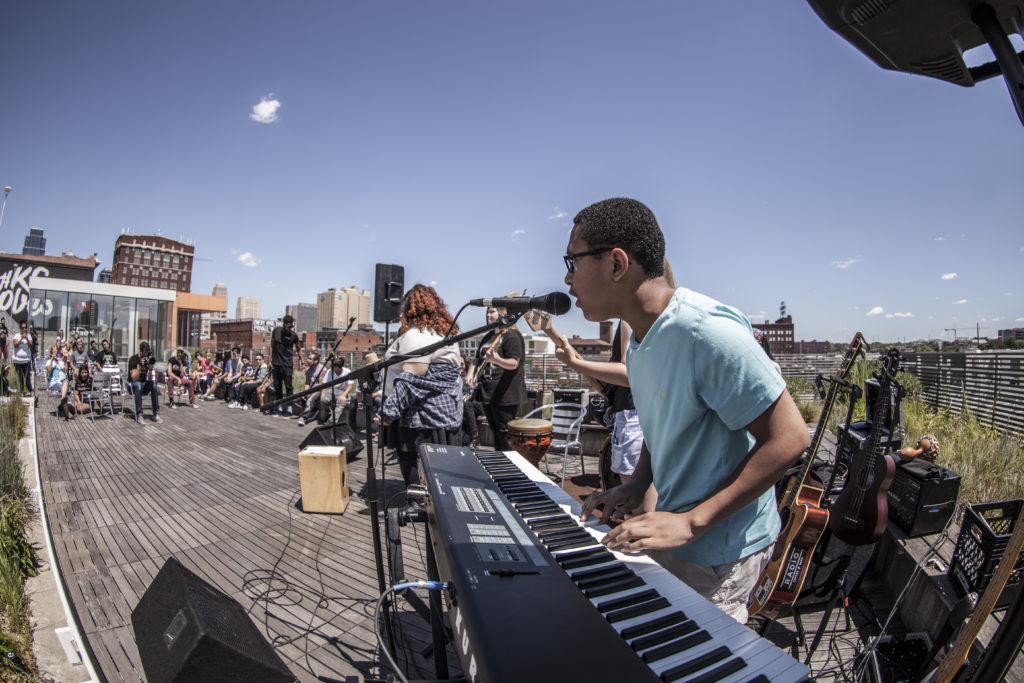 KC LOVES:
One more cliché teacher question. What are some things that you learned from your students?
Enrique Chi:
Oh, man. I'm humble, I guess. Maybe I learned to stay humble because a lot of the kids, they're knack of intuitive sense of story arc or the deeper meaning of things and doing things for the right reasons. I guess I learned to stay grounded to realize it. It seems like that stuff is intrinsic. You ask a kid, "What are we going to write a song about?" Their first instinct is to go deep. Their first instinct is not to say, "Let's write a song about dancing at the club." That is learned to try to write stuff that would be popular or something. Every time you ask a kid, "Let's write a song," they want to tell a real story. When they're young, they want to sometimes make jokes. That's fair too. I guess, for me, I just learned to stay grounded.
Diego Chi:
Yeah, I think it's been this week … I'm trying to think of a specific story that I could tell. To me, one of the lessons that's good to learn is how at a certain point, really, the only thing that holds you back is any fear you might have but the reality is that your instincts come first. There's a student. He was very afraid to add anything … He's a really good piano player but he is afraid to add anything on the piano to the song. They were creating a song and he just seemed so terrified. When I finally got down to it, he straight up told me that "I don't think it'll sound good." His ideas, he didn't think they would sound good. But once we coaxed out of him what he was thinking. I was like, "Well, what are you thinking?" You know, kind of hum it for him. He put it out and he himself was just blown away by how well it sounded with the song. It was his instinct. I've just told him like, "Man, you have to trust those instincts."
It was just a reminder for me how easily your own fears of thinking "I don't know if I want to add this because I don't know if it's going to sound good." That fear of failing, that always stops you. It's a constant reminder of these really basic, almost life lessons. They're not even music lessons necessarily. Just life lessons that if you don't, if you're too afraid to fail and you never try and then you don't, you honestly hold yourself back from doing something that's beautiful. What he ended up performing tonight was awesome.